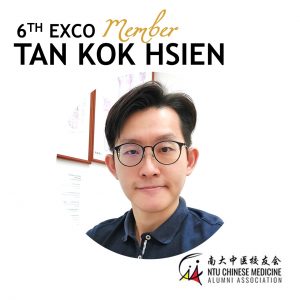 Kok Hsien graduated in 2013 and started off his career with the NTU Chinese Medicine Clinic. His clinical interest is in spinal-related conditions, injuries and pain management, and gastrointestinal related conditions. Other than his personal clinical sessions, he continued to hone his TCM skills and was privileged to be under the tutelage of locally renowned TCM physicians in the clinic.
Kok Hsien was also heavily involved in the management of the clinic and the administration of the Biomedical Science and Chinese Medicine double-degree program in NTU. He has also conducted numerous TCM introductory programs and talks to corporate clients and the public.
Seeking to better understand the TCM policies and landscape in Singapore, Kok Hsien is now with the Traditional and Complementary Medicine Branch, Ministry of Health. Since graduation, Kok Hsien has also been volunteering with The Public Free Clinic to bring care to the less-privileged community. He continues to maintain clinical practice on selected time slots.
Kok Hsien believes in the value of TCM and that it has a special role to play in complementing western medicine practices. TCM can also offer valuable insights on health cultivation and illness prevention. He advocates for more clinical studies and research on TCM, and interaction between doctors and TCM physicians to harness the best of practices to achieve greater health.