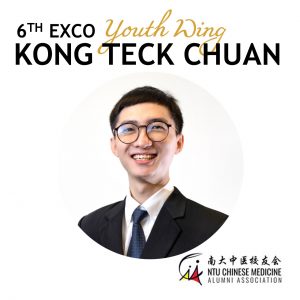 Teck Chuan graduated in 2019 and practices with Eu Yan Sang TCM Clinics. His clinical interest includes skin conditions, preventive care and gastrointestinal related conditions. He had the privilege to be under various tutelage of locally renowned TCM physicians in Eu Yan Sang Premier TCM Centre since 2019.
Teck Chuan was also heavily involved in the project to build the All Things Health website by Eu Yan Sang by helping to create the health and wellness content information. He has also conducted various TCM programs, talks and videos for corporate clients and the public.
While actively promoting TCM for the mass public, Teck Chuan has also translated various TCM research papers with BUCM academics and physicians. Since graduation, Teck Chuan has also been volunteering with Singapore Chinese Medical Union and liaising with NLB to bring the centennial documentation and records of the local TCM development to fruition.
Teck Chuan believes in TCM complementing western medicine practices to provide personalized and preventive healthcare. In his interaction with doctors in One Wellness Medical – Eu Yan Sang Integrative clinic, he champions a healthy lifestyle and disease prevention with TCM and the Western scientific approach.