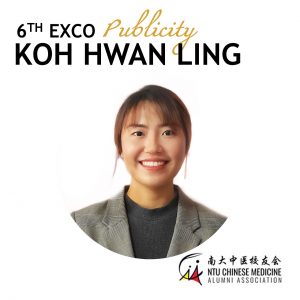 Hwan Ling is a registered TCM Practitioner in Singapore. She graduated with a Double Degree with an Honours in B.Sc. in Biomedical Science and Bachelor's Degree in Traditional Chinese Medicine from Nanyang Technological University and Beijing University of Chinese Medicine. She is currently practicing full-time and is the Assistant Manager, CRM, of Bao Zhong Tang TCM Center. Her practice at Bao Zhong Tang also extends to COMO Shambhala Urban Escape Singapore. She also volunteers at Kang Ming Free Clinic and is a member of the Society of Chinese Medical Research.
She is a believer of holistic health management and holding responsibility in one's own health. She hopes to help more people benefit from the use of TCM and regain control of their health.
During her free time, she enjoys cooking and baking. She is also an avid sportswoman and often spend her off days in the outdoors, trekking, hiking and kayaking.